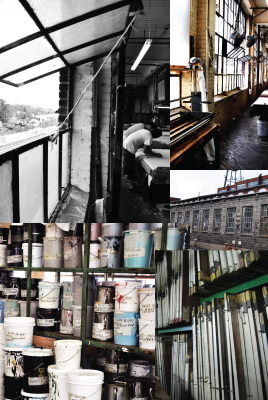 INSPIRATION
Each studio bon fabric begins its life as a dream. Dreams that often wake designer Bonnee Sharp from sound sleep, insistent upon being remembered. Midnight doodling and note taking are common. Sleep is not. Pattern is her passion. She is inspired by the simple beauty of the familiar; an iron handrail, interlocking threads, a heartbeat, birds balancing in the breeze. For Bonnee, there is magic in the mundane. The world is her endless design oyster.
DESIGN
Once her inspirations are committed to paper, via sketches or color renderings, design elements begin to emerge. Each pattern lends itself to the unique rhythm, or repeat, it will make as it dances across yard after yard of rolled linens and cottons.
SCREEN MAKING
After Bonnee tweaks and perfects each pattern element, she creates a final draft of the artwork and sends it to an architectural printer to be reproduced on a translucent sheet of vellum. Through a photo negative process the art is transferred to a stretched silk screen frame and is tested for its ability to seamlessly and successfully fit into itself to create a continuous pattern.
PRINTING
Each unmarked roll of fabric is a blank page awaiting a new story. Studio bon's master printers have been lovingly hand-printing fabric for more than seven decades. Pressure and rhythm are their art. Ink, muscle and fabric their tools. The resulting subtle variations in each and every pass are their inimitable signatures.
Each unique pattern is printed, one painstaking yard at time, by artisans in the United States. (Which is good for our economy, and even better for our planet!)