Schumacher, Dallas
December 4, 2012
10:30 am, Schumacher, Suite 300
Dallas Design Center, Dallas
Join Schumacher Dallas in welcoming Bonnee Sharp as she presents the Fall 2012 Studio Bon Textiles Collection.  Enjoy sips and sweets as well as a chance to win two fabulous chairs upholstered in Studio Bon's Greek T fabric.
---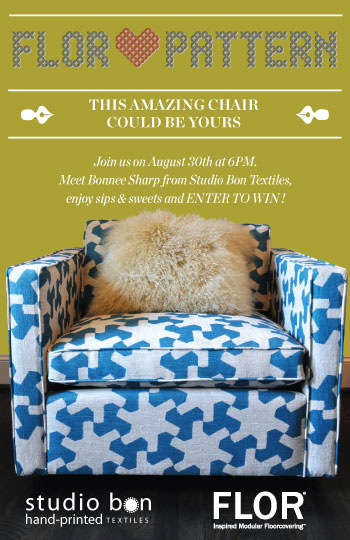 FLOR, Dallas
August 30, 2012
6:00 pm, FLOR 4152 Cole Ave., Dallas
Join us, and other Dallas pattern enthusiasts, August 30th, from 6:00-8:00pm, for sips and sweets and to hear Bonnee Sharp, founder and designer of Studio Bon Textiles, share her journey to becoming a fabric designer and to hear about what inspires her work.
---
Fall Market 2009
September 24, 2009
2:00 pm, Schumacher & Co., Suite B489
Pacific Design Center, Los Angeles
Join Bonnee Sharp for a preview of her new collection, Studio Bon, at Schumacher. Meet and greet with the Dallas-based designer to learn more about her fabrics and her transition into textile design. The program features a discussion between Susan North, Schumacher's VP of Design, and Bonnee Sharp, moderated by Andrea Stanford, C Magazine Style and Design Editor.
---
Fall Market
October 8, 2009
2:00 pm, Schumacher, Suite 832
Decoration and Design Building, New York
Meet Dallas-based interior designer turned textile designer Bonnee Sharp and preview her new graphic prints collection, Studio Bon, available exclusively at Schumacher. Join Carolyn Sollis, former Style director for House & Garden, Bonnee Sharp and Schumacher's VP of Design, Susan North, for a panel discussion. The program will be followed by sumptuous desserts.
---
DCH Fall Market
November 18, 2009
Schumacher & Co., Suite 6022, Decorative Center Houston
Event details TBD